Esplanade looks to follow and regulate ESG by continuously stepping forward with methods of improvement. 
To tackle the environmental side, we limit waste products by increasing the rate of recycling while imposing separation of products at every job site. We implement money-saving, emission reducing technologies in our offices and provide electricity increasingly derived from renewable energy sources. 
Esplanade is aware of the social aspect and its obstacles.  To reach our physical goals, we have weekly events like group fitness classes, yoga, HIIT classes, nutritional instructions through our on-location gyms. Mental well-being is sought to be aided through provided health insurance, wellness program, mental health EAP, and a safety program. Legacy planning like 401K, health benefits, incentivized pay programs, and emergency response planning to reassure the social stability. Esplanade also takes part in philanthropy through the FLAG charity foundation and its community outreach programs.
Governance is followed through safety protocols regulated by OSHA, Got Safety, and enforcing EHS and EAP performance expectations. Diversity is pushed as over a third of office workers are women. Esplanade is compliant to employee rights and government laws by providing an employee handbook, licensing, and utilizing third-party compliance vendors. 
WHAT IS ESPLANADE'S PURPOSE BEYOND FINANCIAL SUCCESS
Building a Better Future by constructing sustainable projects that are environmentally conscience
Utilizing our resources to lessen our footprint and mitigate Risk 
Safety program to reduce injury rates.  Utilizing GotSafety App and system for total coverage

Utilizing 3rd party vendors & consultants to test our safety program and identify our risks, to edit and correct

Training, OSHA certified employees, 3rd party training bilingual and regular safety meetings for field and office
Limiting our Footprint 
Sustainability by conserve energy, limiting emission intensity 

Recycle, Reuse, Repurpose protocol and programs, follow all local, county, state and federal requirements 

Conserve by limiting water usage, low flow fixtures, and implementing renewable energy efforts
Legacy Planning – Invest in your people and you invest in your future.
Benefits, Health care is company paid 100% of employee and all dependents. 

401K with company match. 

Incentivized Pay Programs.  Performance based commissions and bonuses at every level to encourage
     positive growth for both the individual and the company. 
Social Responsibility
Gender Diversity and equity with hiring practices and management

Impact on Community and Philanthropy.  Company programs and events to make and impact on those in need.

Living Standards Raised via Fair Gender / Equity Pay.  Follow and exceed all employment & labor standards
Health & Wellness Program, a comprehensive and Holistic approach to our employees well being
Tri- Annual Workshops and Seminars with Health Experts for all employees

Physical Health, fitness program led by in-house employee and director of Health and Wellness, includes:

a.) Daily fitness classes, yoga, strength training, cardio, stretching

Mental Health

a.) EAP (employee assistance program) with LifeWorks

Stress Awareness

a.) Meditation classes with YOGA daily. 
Identify & Measure Effective Environmental Factors
Communicate with our clients about carbon emissions and tools to reduce

Identify alternatives for single use plastic packaging 

Influence design and educate on selection of building materials to environmentally friendly alternative products.

Tracking, measuring and reporting of ESG metrics and goals
Analyzing, understanding and action based on the expectations and needs of our clients, employees and vendors

Corporations' performance with annual revenue growth, retained earnings staying in the company,

and stability in management
Corporate responsibilities including 3rd party audits for General Liability Insurance, Workman's Comp,

 Financial Reporting, Tax, Banking & Safety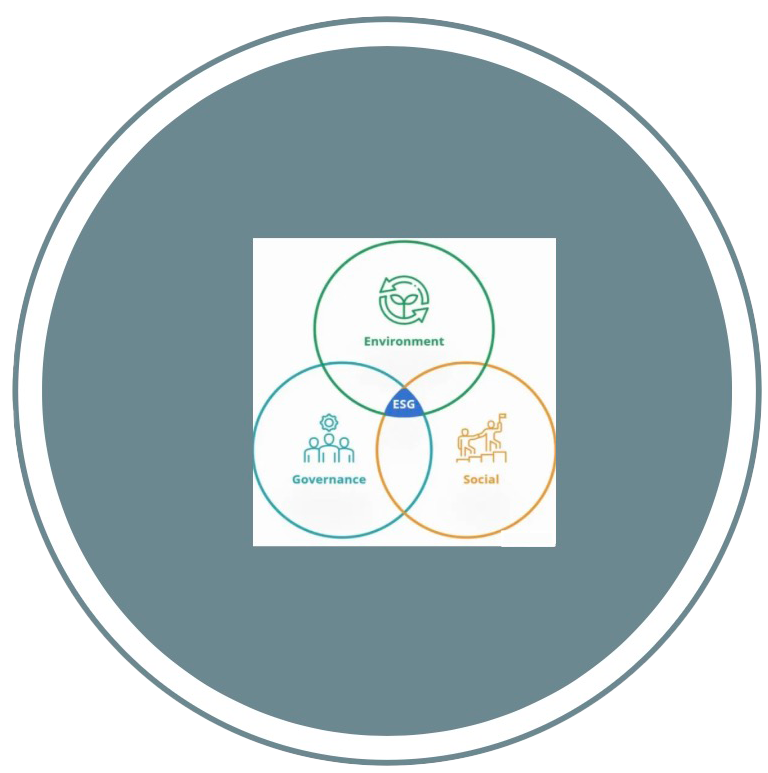 The environmental aspect of it refers to an institution's impact on the environment as well as assessing the risk management.

Social refers to the organization's relationship to the employer and employees.

Governance is based on how an organization is managed. This also includes risk management, ethics, compliance and board management.

In order for Esplanade to set out ESG, we started with Research and analytics of the company of the above subjects in order to Engage with, Prioritize, and Activate steps for a better pathway.